Are you a pastor's wife or a ministry wife seeking to overcome fear Biblically? You're in the right place.
In the midst of life's uncertainties, as ministry wives, we often grapple with fear. But we can learn how to overcome fear and embrace God's steadfast love.
Join us as we find wisdom in the Bible and practical guidance to remove fear from our mind and heart, embrace God's love and boldly follow His path.
Understanding the Types Of Spiritual Fear
As pastors' wives, we can encounter various types of spiritual fear. Here are a few common ones and some Bible stories that can provide hope and inspiration when we face these fears:
Fear of Inadequacy: This fear stems from feeling unqualified or ill-equipped for our role in ministry. The story of Moses in Exodus 3-4 reminds us that God can use even the most hesitant individuals for His purpose. Despite Moses' initial fear and self-doubt, God empowered him to lead the Israelites out of Egypt.

Fear of Criticism: Ministry often exposes us to criticism and judgment from others. The story of Nehemiah in Nehemiah 4 illustrates how he faced opposition and mockery while rebuilding the walls of Jerusalem. Yet, Nehemiah's steadfast faith and reliance on God allowed him to persevere and complete the task.

Fear of Loneliness: Ministry can sometimes be isolating, leading to feelings of loneliness. The story of Elijah in 1 Kings 19 demonstrates that even the most faithful servants of God can experience loneliness and despair. However, God provided Elijah with companionship and reassurance, reminding us that He is always with us.

Fear of Failure: This fear revolves around the worry of not meeting expectations or falling short in our ministry duties. The Apostle Peter's story in Matthew 14:22-33 offers encouragement. Despite briefly sinking into the water due to doubt, Peter's faith allowed him to walk on water when he kept his eyes on Jesus.

Fear of Burnout: The demands of ministry can lead to exhaustion and burnout. In Mark 6:30-32, we see Jesus encouraging His disciples to rest after their ministry work. This reminds us of the importance of self-care and relying on God's strength to avoid burnout.

Fear of Uncertainty: Ministry often involves navigating uncharted territory. Abraham's story in Genesis 12 serves as a powerful example. He stepped out in faith, leaving his homeland for an unknown destination, trusting in God's guidance. This story reminds us that God can lead us even when the path ahead is uncertain.

Fear of Disapproval from Congregation: We may fear that our actions or decisions could lead to disapproval from our congregation. The story of Esther showcases a brave woman who risked her life to save her people. Her courage in approaching the king despite potential disapproval teaches us about the importance of doing what is right, even when faced with opposition.
These Bible stories offer valuable lessons and inspiration for pastors' wives facing various types of spiritual fear.
They remind us that, through faith and reliance on God, we can overcome these fears and continue to serve in our ministry roles with confidence and purpose.
This also show us how to stop living in fear and start walking in faith.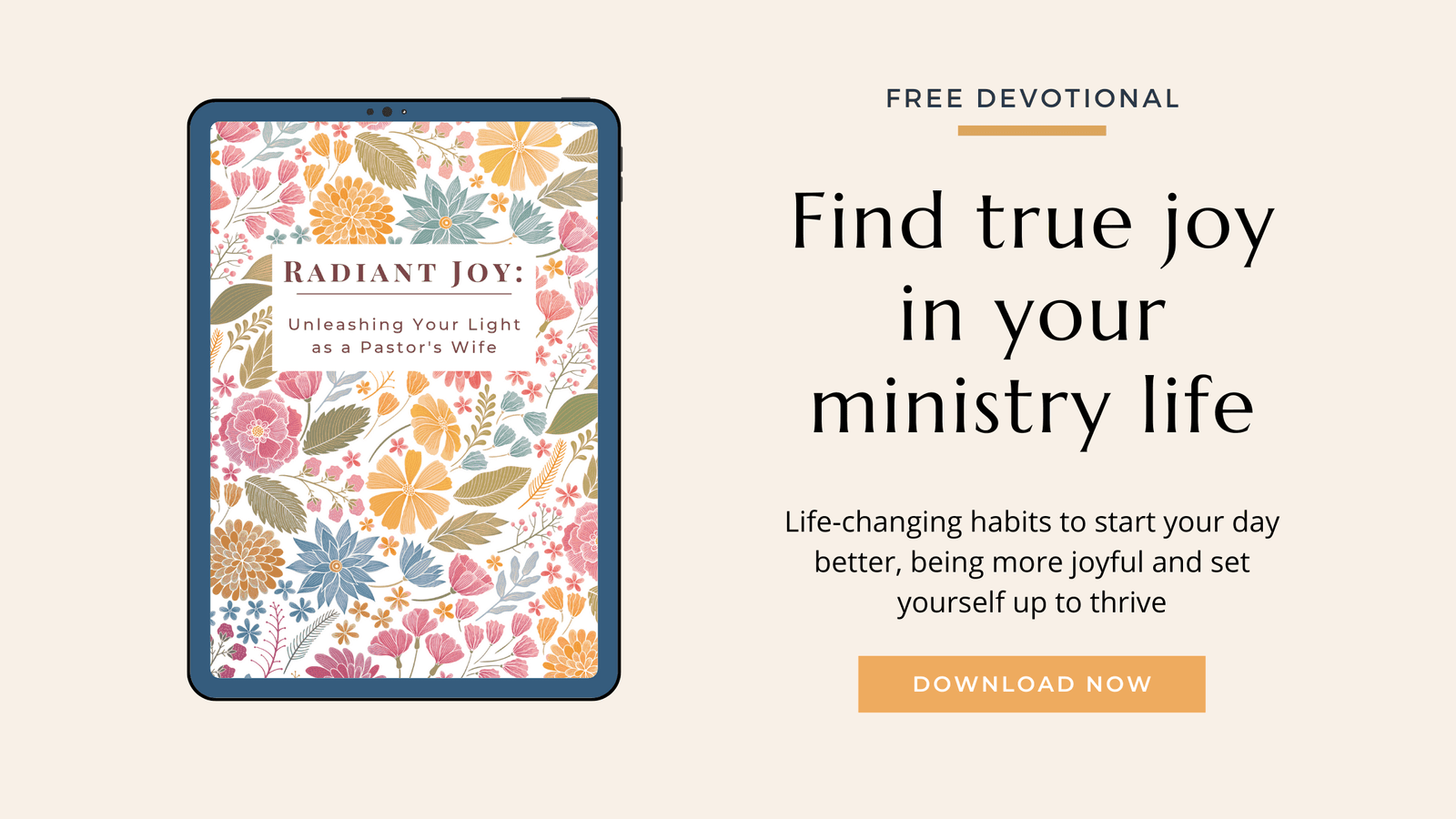 Overcoming Fear with Faith: Scriptural Guidance
Let's explore seven Bible verses about fear and worry that will empower you as a pastor's wife, to overcome the spirit of fear with unwavering faith:
Isaiah 41:10: "Do not fear, for I am with you; do not be dismayed, for I am your God."

2 Timothy 1:7: "For God gave us a spirit not of fear but of power and love and self-control."

Psalm 56:3-4: "When I am afraid, I put my trust in you."

Philippians 4:6-7: "Do not be anxious about anything, but in everything by prayer and supplication with thanksgiving let your requests be made known to God."

1 Peter 5:7: "Cast all your anxiety on him because he cares for you."

Psalm 34:4: "I sought the Lord, and he answered me and delivered me from all my fears."

John 14:27: "Peace I leave with you; my peace I give to you. Not as the world gives do I give to you. Let not your hearts be troubled, neither let them be afraid."
These verses serve as powerful reminders of God's presence, His boundless power, unwavering love, and His ability to provide a strong foundation for our faith.
They assure us that we are not alone in our fears and equip us to face life's challenges with unwavering courage, peace, and confidence in God's divine plan.
7 Steps to Overcome Fear Biblically
Overcoming fear with faith involves the following seven essential steps:
Seeking God's Presence: Dedicate time to prayer and meditation to deepen your relationship with God. Draw near to Him, inviting His presence into your life, knowing that He is with you always.

Studying God's Word: Immerse yourself in Scripture to gain a profound understanding of God's character, His promises, and His assurances. Meditate on verses that speak of courage, trust, and overcoming fear, allowing them to fortify your faith.

Practicing Trust: Choose to place your trust in God's sovereignty and His unwavering faithfulness. Remind yourself of past instances where God has demonstrated His faithfulness and provided for you. Trust that He is orchestrating all things for your good, even amid fear.

Renewing the Mind: Replace fearful thoughts with faith, hope, and gratitude. Cultivate a mindset aligned with God's truth and His promises. Release negative thoughts and replace them with affirmations grounded in God's Word.

Community and Support: Surround yourself with a community of fellow believers who can offer encouragement, support, and prayers. Seek out mentors, pastors, or trusted friends who can provide guidance and wisdom during times of fear.

Taking Action: Step out in faith and confront your fears, understanding that God is right there with you. Begin with small steps towards conquering fear, knowing that each step builds momentum and strengthens your faith.

Remembering the Journey: Recognize that overcoming fear with faith is a journey. It requires deliberate practice, a deep reliance on God, and an unwavering commitment to trust in His promises.
As ministry wives, we can overcome fear Biblically through the power of faith. Embrace this journey, let go of fear, and walk boldly in the confidence of God's unfailing love.
You are not alone in this endeavor, and God's Word is your guiding light towards a life free from fear.
All my love,