Are you struggling to find joy in your life?
As a ministry wife, your path may be filled with unique challenges, but it's essential to remember that joy can still shine through.
In this blog post, we'll explore the meaning of joy, discover what the Bible says about it, and teach you how to have joy in your life in 100 wonderful ways!
What Is Joy?
Joy isn't just a short-lived feeling; it's a deep sense of being truly well. It's the peace and happiness that come from knowing God and being close to Him.
Joy is a lasting feeling inside your heart that shines out, even when things are tough.
What Does The Bible Say About Having Joy?
The Bible has so much to say about ways to find joy and examples of having joy in the Lord. It reminds us that joy is a fruit of the Spirit (Galatians 5:22) and that the joy of the Lord is our strength (Nehemiah 8:10).
Scriptures like Psalm 16:11 encourage us to find joy in God's presence, and Psalm 30:5 assures us that weeping may endure for a night, but joy comes in the morning.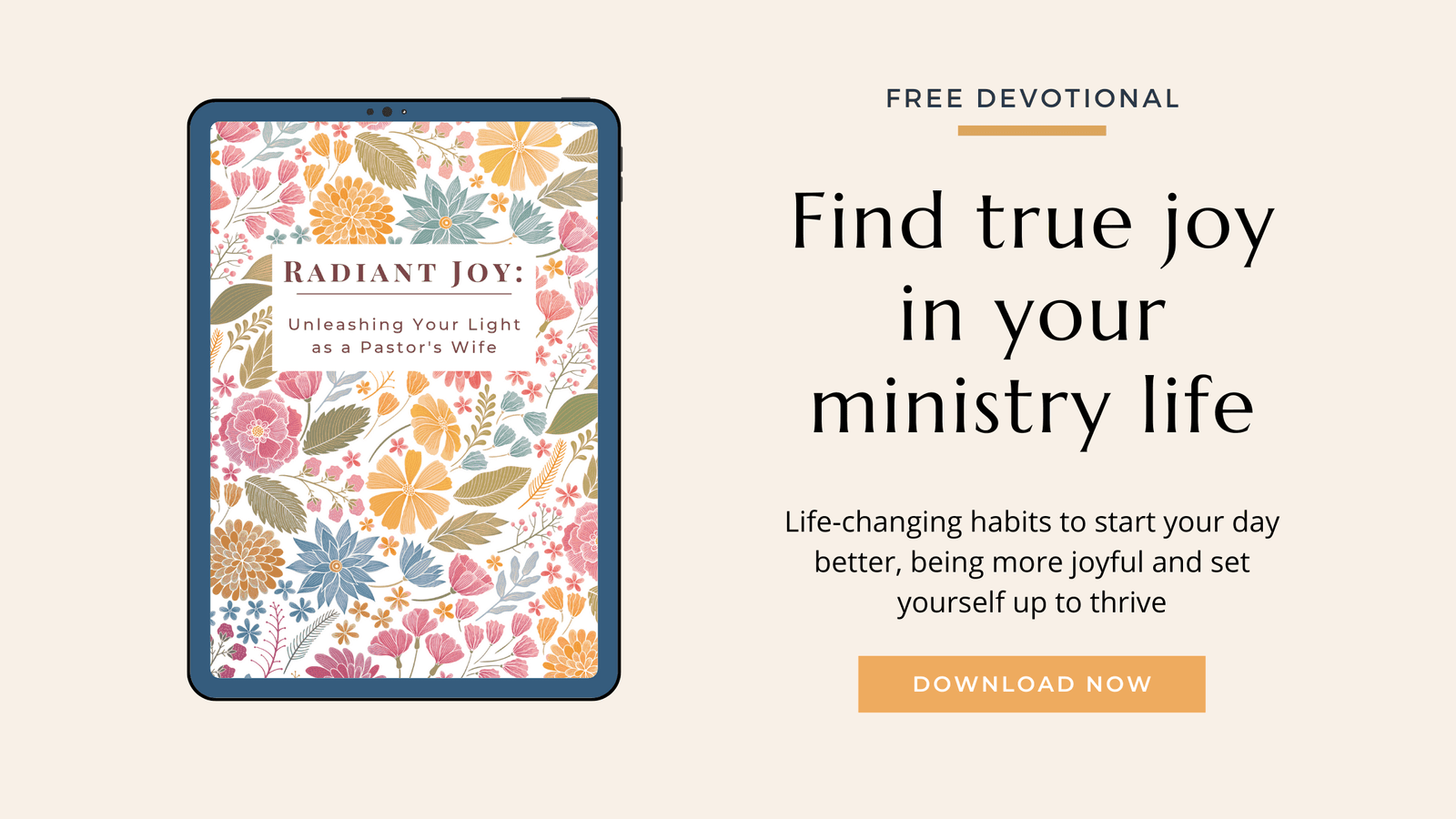 100 Wonderful Ways to Have Joy in the Lord:
Now we'll give you a big list to teach you how to have joy as a Christian in 100 wonderful ways. These are easy things you can do every day to help bring joy in your life:
Personal Connection with God:
Start your day with prayer and meditation.
Keep a gratitude journal to reflect on God's blessings.
Participate in daily Bible reading or devotional time.
Attend a women's Bible study group.
Memorize and meditate on Scripture.
Keep a prayer list and regularly intercede for others.
Attend church services with an open heart.
Spiritual Growth:
Attend seminars or workshops to deepen your faith.
Take online theology or Bible courses.
Learn a new hymn or worship song each month.
Volunteer for church events and projects.
Join a local or online prayer group.
Host a small group or Bible study in your home.
Attend a Christian conference or retreat.
Meditation and Reflection:
Spend time in silent reflection daily.
Practice mindfulness and being present in the moment.
Write letters to God, expressing your thoughts.
Listen to instrumental worship music.
Create a quiet and sacred space in your home.
Keep a prayer wall with answered prayers.
Reflect on God's creation in nature.
Acts of Kindness:
Write encouraging notes to others.
Volunteer in your local community.
Help those in need, such as the elderly.
Bake and share homemade goodies.
Offer your listening ear to those in distress.
Create care packages for the homeless.
Donate to a charitable organization.
Healthy Lifestyle:
Exercise regularly to rejuvenate your body.
Prioritize self-care with relaxation techniques.
Maintain a well-balanced diet.
Get adequate rest and sleep.
Practice deep breathing exercises.
Take nature walks and connect with God.
Enjoy a hobby that brings you joy.
Connection with Others:
Foster strong relationships with friends.
Invest time in family bonding.
Attend your children's events and activities.
Build a support system with other ministry wives.
Strengthen your marriage through quality time.
Forgive and reconcile with loved ones.
Build a network of prayer partners.
Creative Expression:
Engage in arts and crafts as a form of worship.
Learn a new instrument for praise and worship.
Write poetry, devotionals, or songs.
Keep a spiritual journal.
Express gratitude through art and drawing.
Decorate your home with scripture art.
Create a praise and worship playlist.
Hobbies and Interests:
Cultivate a love for gardening and nature.
Learn a new skill or craft.
Join a book club or reading group.
Explore culinary arts and cooking.
Learn a new language for mission work.
Engage in volunteer work matching your talents.
Start a blog or online ministry platform.
Family Moments:
Pray as a family.
Establish family traditions and rituals.
Host family game or movie nights.
Plan regular family outings.
Share personal testimonies.
Create a family mission statement.
Teach your children about mission work.
Hospitality and Outreach:
Open your home for ministry gatherings.
Host a monthly fellowship meal.
Welcome newcomers and visitors.
Serve meals to the homeless.
Coordinate church events with joy and enthusiasm.
Organize outreach projects in your community.
Support international mission work.
Learning from Others:
Seek advice from experienced mentors.
Attend seminars and conferences.
Listen to inspiring sermons and podcasts.
Read books on faith and ministry.
Take time to listen and learn from others.
Connect with other ministry wives.
Share your wisdom with younger women.
Fulfilling Ministry:
Create goals and plans for your ministry.
Build meaningful connections with congregation members.
Foster unity and cooperation within your ministry team.
Celebrate ministry milestones and accomplishments.
Encourage creativity and innovation in your ministry.
Pray fervently for your ministry work.
Host faith-sharing gatherings.
Quality Time with Spouse:
Prioritize date nights with your husband.
Dedicate regular time for heartfelt conversations.
Attend marriage enrichment seminars.
Express love and appreciation daily.
Serve alongside your spouse in ministry.
Share moments of laughter and joy.
Keep a bucket list of dreams together.
Personal Growth:
Attend self-improvement courses or workshops.
Set personal goals and celebrate achievements.
Practice time management for increased productivity.
Explore new cultural experiences and travel.
Share your faith testimony with others.
Pursue personal development in hobbies and interests.
Nurture your spiritual gifts and talents.
Surrender and Faith:
Release worries and anxieties through prayer.
Trust God's plan, even when facing trials.
Express gratitude and praise.
Walk by faith and not by sight.
Surrender your burdens to the Lord.
Continually seek His guidance.
A Life Filled With Joy
In your journey as a ministry wife, finding joy is not just a personal blessing but a gift you can share with your community.
Let the joy of the Lord be your strength as you explore these 100 wonderful ways to experience joy.
Embrace the fullness of God's love and grace in your life, and remember that joy is a beautiful reflection of your faith.
All my love,