I'm Daeyna Otieno, and welcome to the She Is A Message Ministries blog.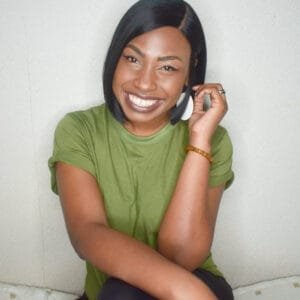 If you're new to She Is A Message Ministries, I wanted to come say hi and tell you a little bit about me and what I do here. I will keep this page updated as often as I can because I want you to walk with me as I walk with Christ. In doing so, I strive to be as transparent as possible.
She Is A Message Ministries isn't just a blog. It's taken me quite some time to figure this all out. When I first started writing, I realized that I enjoyed expressing myself in writing, so now I've poured my passions into one medium that I can be truly proud of.
My story started all the way back in 2014. After my divorce, I really slid down the rabbit hole of sin, shame and depression. As far as I was concerned, God had let me down big time, and I was tired of serving Him if this would be my reward. I despised God because how could a loving, merciful Father allow such a horrific thing to happen to one of His faithful servants??
I did whatever I wanted, with whoever I wanted, all in an attempt to feel needed, desired and loved. Everything I thought I would never do as a Christian I ended up doing, and more. Lying, stealing, cheating, suicidal tendencies, addiction to pornography. You name it. I did it.
In my mind, this was the end of the story. This was the messy bed I had made and now I'd have no choice but to lie in it.
Thank God that He had other plans.
Thank God that He was still holding the pen.
In June 2021, before I wound up in the hospital with a severe case of Clostridium Difficile. I prayed to God and asked Him for a Godly man, a man that would love, honour, and cherish me, and that's exactly what He did. This man, Kennedy, stood by me as I stayed in the hospital. He prayed with me, encouraged me, and soon, on July 07, 2022, this wonderful, humble Pastor would become my husband.
Though we've been married for a short time, we have accomplished so much together, and I can't help but give God the praise due to His name for all that He has done. Kennedy is my second chance at love, and this time around, God has the whole wheel.
It's taken me many years to truly understand even a piece of what God had in store for me all those years ago when He allowed me to go through my first marriage, divorce, and the aftermath of it all. I couldn't be more thankful.
Through this blog, I want to inspire, and encourage women (and any men that wanna join the community) who have been through dark times, and have gone down those dark roads. I want to help you to see that there is still hope for you because of Christ's sacrifice on that cross all those years ago. There is still a chance to be who God desired for you to be from the very beginning.
And yeah, you might have been the worst person. You might have done the most abysmal things. But that does not disqualify you from being used, renewed, and transformed by God.
God has saved me from lust, pornographic addiction, same-sex attraction, sexual addiction, suicidal tendencies, and so much more.
So trust me when I say that if God can change me; the sinner, the shameful, the unforgivable, then God can change you too.
It's not the easiest road.
It's not the shortest walk.
It's not the most fun.
But it's so worth it.
Every soul that I get to touch with a blog post reminds me that it's all worth it.
Am I perfect? No, I'm not.
Do I still stumble, and fall daily? Yes, I do.
Does that change the way that God sees, and loves me? No, not at all.
God loves you so much that He sent His one, and only son to die for a world that, for the most part, didn't care. (Some still don't).
My aim with She Is A Message Ministries is to show you that God uses everything- the good, the bad, and the downright disgusting- for your good, and for His glory.
You just need to trust Him.
So stick around.
Read a blog post.
Be encouraged.
Change your life.
Develop the gifts that God has given you. (1 Peter 4:10-11)
Then go out there, and change other lives.
All my love.

Ready to dive in? Here are my top must-read posts to inspire and uplift you!
5 Effective Ways You Can Deepen Your Relationship With God This Year
5 Imperfect Women In The Bible Every Woman Should Know About
How To Cope When God's Plan Is Different From Your Plan: God's Will vs Our Plans
4 Unbelievable Ways God Uses Our Failure For Our Good
Trusting God When You Don't Understand: How To Fix Your Eyes On Faith
Get inspired and make a statement with our collection of faith-inspired clothing. Start the new year off right by wearing your testimony on your sleeve, literally. Check out our store now!
Join the mission of spreading God's word and shop at She Is A Message Ministries Store. Every purchase supports our ministry and helps us continue spreading His message to the world.